Ultimate Rollercoaster > Discussion Forums > Roller Coasters, Parks & Attractions > BGE tr 12/01 (long!)
BGE tr 12/01 (long!)
Posted:
12/4/12 at 1:57:07 AM
Views: 4777
I went to BGE this past Saturday for an ACE event (Coastin' thru the Snow) with my mom and I managed to get 6 rides on Verbolten before the park opened to the public. The weather was beautiful - about 65 degrees at the warmest part of the day and a clear sky.
We arrived at the park just before noon (it officially opens to the public at 3pm, though there were people coming into the park just after 2:30) and first up on the agenda was lunch - this was the feast with Santa Claus, an upcharge event over and above the regular admission. This is basically an all you can eat buffet and a chance for kids to see Santa Claus, and as is normally the case with this park, the food was good. They had typical holiday fare, including turkey, stuffing, sweet potato casserole, mac & cheese, roasted pork loin and some kind of beef stew (which I didn't care too much for as it was spiced a bit strangely, I thought). For dessert they had red velvet cake, apple cobbler and cookies.
Then we got an hour of ERT on Verbolten and I got 6 rides, but only got two of the three themes, the spirit and the wolves this time. My mom can't ride coasters due to medical problems so she waited this one out. I think the drop track is my favorite part of this coaster for some reason (even though I hate drop towers). I also managed to avoid having my head thwacked into the back of the headrest during the 2nd launch, as had happened to me a few times when I rode this past summer. I rode in the very front and about half-way back, as the further back you get it is a bit rough for my tastes.
Around 2:30 the gp began to appear in the park and I decided to take my mom over to ride Darkcastle. I had told her about this ride, and figured she would like it because she liked Spiderman. But to my chagrin I found that Darkcastle was closed for the season. No explanation of why (I asked an employee where the entrance was, and was told it wasn't open during Christmas town - I couldn't find the entrance because they had camouflaged it with Christmas trees and other decor) other than that it just wasn't open. I thought for sure that since it is (normally) cold outside in December that it would be the indoor attractions that the park would have open for sure. Either way, I was disappointed that my mom was unable to experience this ride.
So then I took my mom over to the next ride I thought she would like (and be able to ride), and was told by various employees that it was indeed open. It was at this point (around quarter to 4 or so) that the park became extremely crowded. My mom can't walk much so I brought her wheelchair and it was really tough to navigate the throngs of people milling around the park. Worse yet, in many areas the crowd was moving in one direction like a herd of cattle thru a chute, and it was challenging if you had to go in the opposite direction. But we finally made it to the flying over Europe ride (the name escapes me; I keep wanting to call it "soaring over Europe" but only because of a much more famous simulator ride out west) and luckily it was running. My mom liked this ride, though she found parts of it a bit rough.
After that, the park began to look like Times Square on New Year's Eve, and we decided to leave the park for a while and go out to dinner and back to the hotel for a brief rest. The ACE event included a reserved seating for the Miracles show later that night so we decided to come back around 7:30. We had no trouble parking since my mom has a handicapped tag, but the park was beginning to really fill up at this point. People were parking in the lot across the street and had to take trams over to the gate. There was also a huge line to get into the park. I had no expectation of it being that crowded so early on (if you plan on going, be prepared for huge crowds since I'm sure it will only get more crowded closer to Christmas) in the month. But I'm sure that bad weather and Sundays would probably be less crowded than a Saturday with perfect weather, so you may do better to avoid Saturdays.
On this visit to the park I also noticed the sky lift - I swear I don't think I've ever seen that thing running in ages and was surprised to see it operating that day. I was there in June and I don't remember it running at all. I think I even told someone that BGE didn't have a sky lift! Does anyone know if the skylift had been down for a long time (like months or years), or have I just been completely oblivious to it? I can't imagine that, as I always try to ride the skylift at least once a visit to parks that have one, especially when I bring my camera. My mom wasn't thrilled with it, but it did make it easier to get from one part of the park to the other, and not have to fight the crowds.
The only bad thing was that I didn't get to see the whole park after dark because my mom was feeling badly and wanted to go back to the hotel. I also missed out on Mach Tower, which had been slowed down (the descent) from a drop tower to something more akin to an observation tower like at Hershey. It would have been cool to see the whole park lit up at night from the top.
But I did get to see Italy and England all lit up at night - the Escape from Pompeii lighting was amazing.
I have no idea how crowded various rides had become later that night, so I can't give much of an idea of how long the lines might have been. but what I did notice was that most of the people seemed to just be wandering around and soaking up the atmosphere (speaking of atmosphere - this had to be the best smelling park - there was this pine and other Christmas-scented smells everywhere) and not rushing to ride this and that, as is usually the case.
All in all a good day, though I wish Darkcastle had been open and it had been less crowded.
I did get lots of pics - I will post a few here and the rest can be found in my album: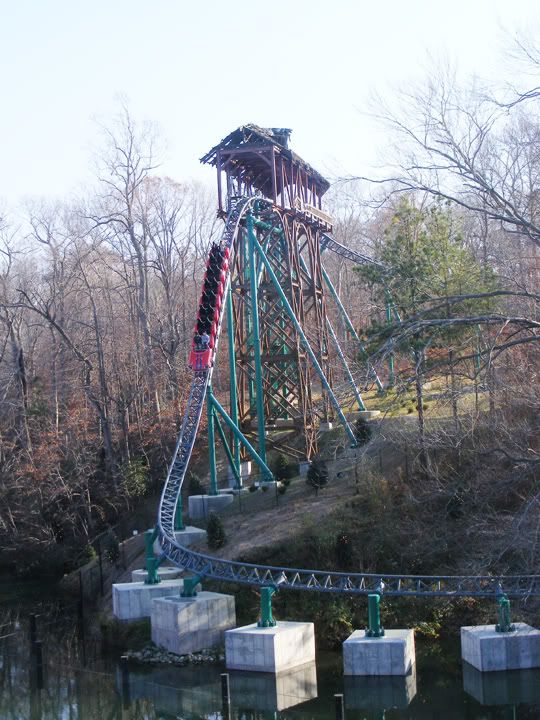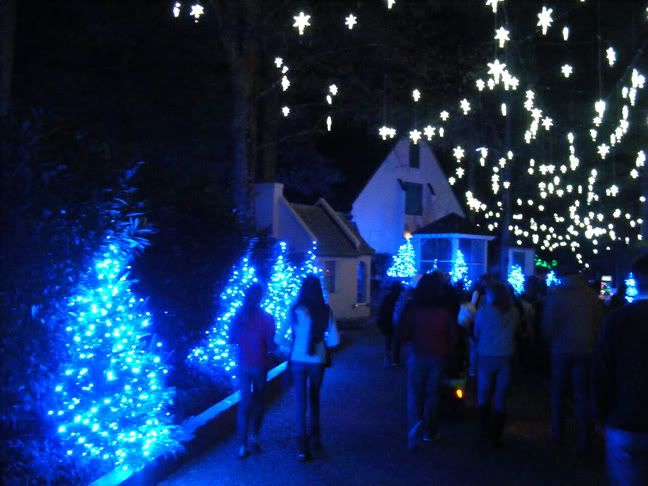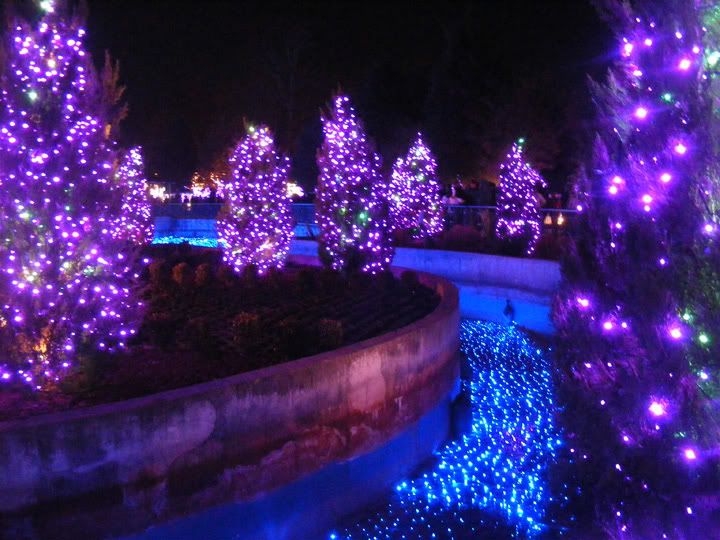 http://s238.photobucket.com/albums/ff15/Schrecken13/Busch%20Gardens%20Europe%20Christmas%20Town%202012/#!cpZZ1QQtppZZ16
Re: BGE tr 12/01 (long!)
by PkD4Life
at 12/4/12 9:58:26 AM
Anytime we have ever been the lift has always been working. We were down in July with no problems with it at all.
We are going down this weekend to Christmas Town and look forward to it. I truly believe it will be busy but thats on par with the event. Cant wait though, looks amazing.
Re: BGE tr 12/01 (long!)
by Cyclone_Phil
at 12/4/12 9:06:35 PM
That's a shame about missing out on DarKastle. But imo, I still think Spiderman is still better because of the effects especially how Spiderman has flames. Otherwise both are similar.
As for the skyride, it has always been there. I rode it in 1994/6~ and in 2009. It was running. I guess you might be confusing with the Magic Kingdom where they completely took it down. I know about BGE's skyway because it's a triangle in one direction as opposed to 2 stations and a midpoint checkpoint. The greatest part of the skyride is going under Griffon's supports.
Re: BGE tr 12/01 (long!)
by

alpengeistno3

at 12/4/12 10:59:18 PM
The skyride is the 1st ride to go down in any sign of inclement weather (including wind). It's not unusual for it to be a perfectly mild day, but a consistent breeze will have it down. It is otherwise consistently open with little downtime.
My favorite leg has always been the Germany to England one, particularly when Loch Ness is running right along and underneath it.
So, let me get this right. Are you saying that Busch is running Mach Tower, but lowering it back to the ground rather than dropping it?!?! I have to admit, that is a better use since it blows as a drop ride, but really odd if they are really doing that. That is a lot of unnecessary strain to put on the motors that I am sure were designed only to work in reverse in emergencies.
Paul
Re: BGE tr 12/01 (long!)
by Schrecken
at 12/5/12 2:06:27 AM
I guess the skyride must have just been down the last couple of times I have been to BGE, as I hadn't ridden it in a very long time and I know I would have ridden it had it been open.
Mach Tower was indeed running very much like the Kissing Tower at Hershey; unless they were just testing it just before the park opened. But even so I can't imagine why they would lower it down slowly like that (I saw it cycle several times just before the public began making their way back there but did not see anyone riding it as I left shortly thereafter) if they were just cycling it before the park opened. Another ACE member said something to the effect that they were running it that way on purpose for a scenic tower effect during Christmas Town.
I never did get back over to that part of the park when it got really crowded so unfortunately I can't confirm how they were running it with riders.
Re: BGE tr 12/01 (long!)
by PkD4Life
at 12/5/12 10:05:09 AM
So, let me get this right. Are you saying that Busch is running Mach Tower, but lowering it back to the ground rather than dropping it?!?! I have to admit, that is a better use since it blows as a drop ride, but really odd if they are really doing that. That is a lot of unnecessary strain to put on the motors that I am sure were designed only to work in reverse in emergencies.
Paul
Paul...this is taken straight from the Christmas Town wed site as they are calling it the Nacht Tower...
"Get a Santa-eye view of the 6 million twinkling lights at Busch Gardens' Christmas Town from the park's observation station, Nacht Tower. Riders are lifted 240 feet above Oktoberfest and slowly descend as they take in 360 degree views of Busch Gardens' holiday celebration"
We are going down this weekend to get some pics and see everything, maybe a video or two. We are also going to be doing the Penguin Encounter...you know since the wife loves Penguins...lol
Lee
Re: BGE tr 12/01 (long!)
by Stredain
at 12/5/12 4:41:05 PM
Hello everyone....I was reading this post and have a few add ins.
Mach Tower at night really is quite beautiful.. it shows off the aerial view of the park's excellent lighting. While I was on it, I took particular note of all of the squeaks and bumps of this... thing. You wouldnt catch me on it at all during regular hours!
I asked around about DarKastle and I understand that it didnt fit in with the theme of the park itself. Its a pity since it would have been a nice contrast to the cheery atmosphere, right gang?
I have good friends who helped with the decorations and they have stated some people are sabotaguing the lighted displays.
Thanks for reading,
Yours,
Stredain
Re: BGE tr 12/01 (long!)
by LoneStar
at 12/5/12 7:26:25 PM
From your pictures I can only imagine how amazing the park looks lit up for Christmas...especially from Mach Tower. As beautiful as that park is, Christmas must be a great experience.
- Pat-O