Ultimate Rollercoaster > Discussion Forums > Europe Coasters, Parks & Attractions > The Switchback Diaries: Matterhorn Bobsled
The Switchback Diaries: Matterhorn Bobsled
Posted:
4/25/11 at 4:26:08 AM
Views: 16146
I will never forget riding this for the first time.
A cool, breezy evening in California - My face was left tingling after the ride as if I'd just had a wet shave or something.
The ride just cut it for me.
In my opinion it's everything Expedition Everest isn't.
None of this leaning to one side for overlong periods.
I enjoyed watching the Matterhorn track twist and bend in front of me, I enjoyed being able to take in the scenery around me and I enjoyed experiencing the overall exhilarating experience that the ride delivered without feeling nauseous.
That's a plus for me. :-)
The image below shows the Skyway passing through the ride.
The Skyway of course no longer operates.
The tunnel you see to the right passing through the Matterhorn was converted into a 'Glacier Grotto'. To this day it stands as a tribute to a man named Frank Wells who tragically died in a helicopter crash in 1994.
Mr. Wells, a keen and accomplished mountaineer, was the president of The Walt Disney Company.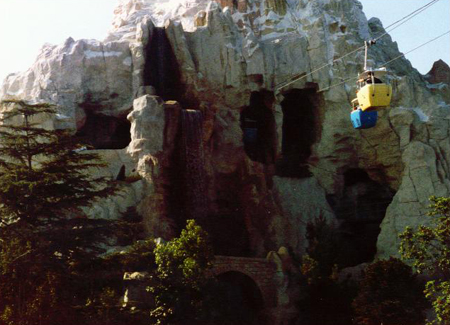 Re: The Switchback Diaries: Matterhorn Bobsled
by Corkscrew_Foley
at 4/25/11 9:46:43 AM
I haven't been to Disneyland to try out the Matterhorn, but it does look like fun. I liked Everest, but I came off feeling disappointed, like it was missing something.
Re: The Switchback Diaries: Matterhorn Bobsled
by Graeme
at 4/25/11 6:54:46 PM
The Matterhorn has always fascinated me. There's just something about the way it keeps nipping in and out of holes.