Ultimate Rollercoaster > Discussion Forums > Europe Coasters, Parks & Attractions > DLP Scrapbook
DLP Scrapbook
Posted:
3/5/11 at 3:50:30 PM
Views: 17266
My love and respect for Disneyland Paris knows no bounds.
It's on par with my love and respect for URC: A site I have posted on, "lurked at" and thoroughly enjoyed over the last 11 years or so.
The following info has also appeared in some other form or other at Joyland Books: the site that hosts my website themagiceye.
It's an offbeat perspective of the park so don't expect the major attractions here.
Still reading this? :-)
Good. You get the director's cut. :-)
All photos by yours truly.
Here goes then..All feedback good or bad always welcome.
****************************************************************
I felt there was something very wrong on the first morning we arrived at our Disneyland Paris (DLP) Hotel.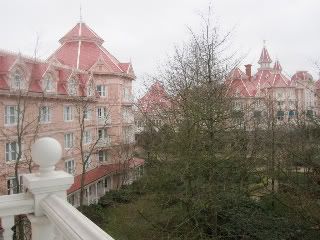 There was worldwide unrest and death being reported on the BBC in Libya and beyond and there was I queueing up for breakfast with my family surrounded by the opulent splendour of the Disneyland Hotel watching grown ups taking photos of their loved ones next to a guy dressed up in a Goofy outfit.
He was giving out autographs too.
But Disneyland Paris is like that.
I think I get it.
Walt's optimism and trust in the human spirit shines through everywhere in the park - It's just a shame that he allegedly never trusted anyone in business but himself.
In front of its façades lies a surreal place that allows people to put modern day life on hold for a couple of days.
There may be excitement and chaos at DLP on the surface but there is a sense of order that is never too far away.
This long and winding offbeat post is my attempt at putting together an offbeat snapshot of my own memories and images from a family visit made between 13 Feb - 17 Feb 2011.
***************************************************************
Listen up..You can forget your Space Mountain Mission 2 - Give me La Cabane Des Robinson any day. (The Swiss Family Robinsion Tree House)
This artificial Banyan Tree (Fig Tree) rises 91 feet and its branches have 300,000 artificial leaves and 50,000 flowers.
This walkthrough..no walk in..no walk up and down attraction is a classic imagineer accomplishment.
At its base down by the roots is Le Ventre de la Terre (The Belly of the Earth literally translated) where supplies of the ship's wreck can be seen stored behind bamboo bars.
As a kid I always wanted a treehouse like this.
I'm sure my dad did too.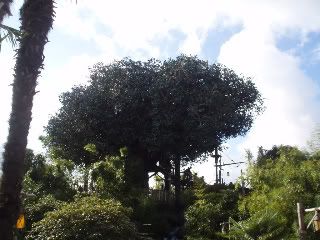 **************************************************************
Mainstreet USA..Welcome to a slice of small town Americana that probably never really existed.
- But perhaps we all like to think that it did..
- and want to live there now..
- as long as it comes complete with modern day comforts..
Main Street USA is a dazzling small town of imagineering lit up by numerous gas lamps and adorned on either side of its wide road by lavish shops, ornate balustrades and beautiful neapolitan ice cream coloured architecture.
***************************************************************
Autopia anyone?
Autopia opened in Paris on April 12 1992 - The day the park first opened.
Whether or not the car I drove is a "car of the future" remains to be seen but its a great fun attraction and one I bet many pass on when they visit Discoveryland.
Besides..you get to drive through Solaria: "A city of tomorrow" with its twisting 4 tracks that separate out, that meet up elsewhere, that separate again to go under and over bridges and that meet up with other tracks later on.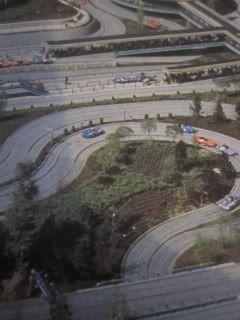 The name Autopia is a portmanteau of the words "automobile utopia," which was popularized in academic circles by British architecture critic Reyner Banham to describe Los Angeles in his 1971 book "Los Angeles: The Architecture of Four Ecologies."
****************************************************************
Now then..Captain EO..This for me was a curiosity..I bought all my vinyl records in the 70s and 80s and listened to all MJ had had to offer music wise from his golden Motown Days and his 80s stuff..but EO had eluded me.
Until now.
The theatre at DLP (Next to Pizza Planet) where Captain EO was showing had, until not long ago shown the 4D classic: Honey I shrunk the Audience.
The Yesterland website at http://www.yesterland.com/eo.html sums up the 3D film Captain EO (the same show but at The Magic Eye Theatre in California) as follows:
"..The doors open. Please move all the way to the end of a row and take a seat. You may put on your 3-D glasses now. (If you wear eyeglasses, don't worry; the 3-D glasses fit right over them.) If you don't like really loud music and noises, this also might be a good time to put some cotton in your ears.
Sit back and watch Captain EO and this faithful, if unusual, crew—Hooter, Fuzzball, the Geex, Major Domo, and Minor Domo—as they prepare to land their little spaceship on an oppressed planet. Where's landing beacon? Don't trip any alarms... Oops. The crew tripped the alarm. Oh no! There's an enemy patrol ship. Still no landing beacon? How about a map? Hooter ate the map?
Crash! Too late—but there's the landing beacon.
Oh, oh... Captain EO and his crew have been captured, taken to the wicked Supreme Leader (played by Anjelica Huston), and sentenced. "Justice" is swift and severe. Captain EO accepts his sentence, one hundred years of torture, with grace. He tells the Supreme Leader that he has brought her a gift, which she will see—and hear.
The music begins, and the battle begins. Lasers fire above your head. What is happening to the Supreme Leader's troops? The power of music is transforming them. Look! Even the awful Supreme Leader is now a beautiful queen, and the planet looks great..."
My thoughts?
It was very 80s and it hurt my eyes. :-)
****************************************************************
I love walking up and down and through Fort Comstock.
Fort Comstock? I hear you ask.
Yes..the Fort Comstock that straddles the entrance to Frontierland.
I wonder how many have walked up the stairs and viewed this log stockade's scenes depicting the romantic American Wild West?
Reading about the Forty Niner and The Gold Rush and Davy Crockett may not be everyone's cup of tea but..hey..The view from Frontierland up there is terrific!
****************************************************************
I do have a soft spot for the Indiana Jones and The Temple of Peril ride.
Probably because Ann and I rode it on the first week it opened (It opened 30th July 1993)
Back then it was pouring with rain and there was a biting wind and we were the only people we saw "queueing" for the attraction at the time.
This time there was a 15 min queue in overcast weather but I have known 90 mins queues so you have been warned!
For those of you who are unfamiliar with the workings and layout of this coaster it has one loop but you can't view it from the available viewing area: It's very much hidden.
To be fair most of the track is hidden from view for the observers which has to be a lost opportunity.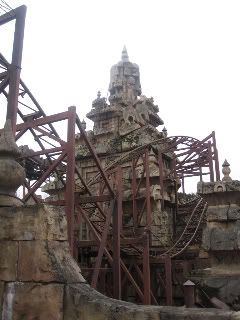 Perhaps if the park is extended in the future then this is a great area to do this from.
This from the wonderful Roller Coaster Data Base (RCDB) website:
"..The track layout of the Indiana Jones is copied from the first looping roller coaster built by the Pinfari company. Pinfari called this a TL-59, the TL stands for "The Loop" and the 59 is for the ride's 59m width. This Intamin version copies the course, but uses a track style that is unique to Intamin.
Originally the Indiana Jones was a traditional roller coaster where the trains traveled in a forwards direction. In 2000 several changes were made. The most significant was changing the direction of the trains. This involved not only turning the trains around, but adding additional scenery as now riders are watching from the opposite direction.
The track was also altered in places to increase the banking. Finally the cars were changed from 2 rows per car to 3 rows per car, thus increasing the riders per train by 50%.
Between November 28th, 2004 and December 3rd, 2004 the Indiana Jones was closed while the trains were turned around and once again, riders travel forwards.."
****************************************************************
Not sure what everyone's views about the Backlot Tour at Disney Studios in Paris are?
If you have experienced California's tour and Florida's tour and even the DLP tour prior to it being downsized circa 2004 then you may well be disappointed.
It's just a lot of queueing for a smaller version as to what has been done before.
However.. if you have never experienced it I would recommend it..Just don't sit in the front carriage of the tram..It doesn't shake at one of the most exciting parts of the tour...
That's all I'm going to say. :-)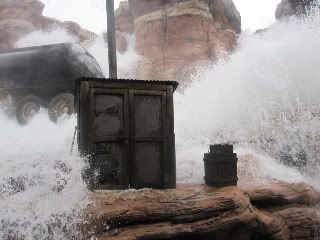 ****************************************************************
It's your choice.
You can walk down Main Street USA towards Cinderella's Castle or walk towards the Castle under either of the arcades that straddle either side of Main Street USA.
Personally I love the arcades.
Both offer access to shops and cafes from the back and a whole lot more.
Both show Disney imagineering design off to the max.
On the right of Main Street USA is Discovery Arcade with its glass cabinets displaying early 20th Century Inventions. -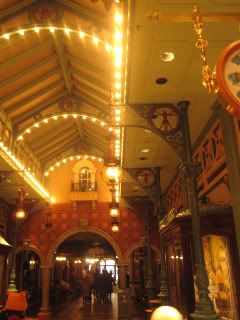 There are several posters here adorning the walls conveying Victorian visions of the future.
On the left of Main Street USA is Liberty Arcade which houses an exhibition about the Statue of Liberty: a diorama about the unveiling of the Statue.
This from the Disney Travel Service:
"..The Statue of Liberty Tableau is a diplomatic touch by Disney, emphasising Franco-American friendship and collaboration. The inaugural ceremony took place in New York harbour in 1886.
The 108ft (33m) high statue by the French sculptor Frédéric Auguste Bartholdi is made up of bronze strips fixed to a steel frame designed by Gustave Eiffel who made the headlines barely three years later when his famous tower was inaugurated for the 1889 World Exhibition.
'Liberty enlightening the World' was a gift from the French people to the American people to celebrate the centenary of the American War of Independence and French involvement in it.."
****************************************************************
Le Disney does not do things by half.
Playing pirates for me as a kid meant sitting in a cardboard box and imagining I was on a ship at sea.
No need for cardboard boxes at DLP.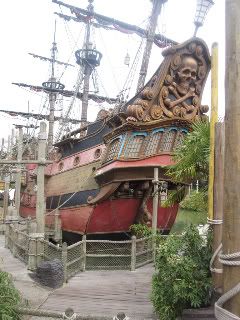 The North section of Adventure Isle has pirates at the heart of its theme.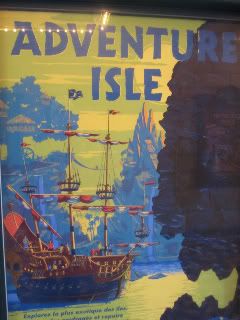 Yes, there is the wonderful Pirates of the Caribbean ride..
.but there is also Spy Glass Hill, Davy Jones' Locker, Skull Rock, Benn Gunn's cave with its six entrances and Dead Man's maze.
For those not in a hurry to get elsewhere you could if you wanted to, spend ages here exploring the mysterious network of caves, turning corners and walking past small openings where water tumbles down from rocks above.
*****************************************************************
That's all for now.
I know that I've barely scratched the surface as to what the wonderful park has to offer.
But that's good isn't it?.
And besides..
..I like it that way. :-)
* This Post Has Been Modified *
Re: DLP Scrapbook
by Graeme
at 3/5/11 6:28:47 PM
That was brilliant, d_n_s_u, I felt I was there. You took me on a voyage round Disneyland.
I've always thought those studio tours were a really scary idea - how you'd sit on a tram and travel through full-scale sets!
Re: DLP Scrapbook
by the_winged_beast
at 3/13/11 11:43:27 AM
Amazing! I really appreciated the alternative view and depth of the report, it really felt like we were actually there and exploring the park's hidden treasures
Thank-you for taking the time and effort to put it all together :)

Re: DLP Scrapbook
by DarkwingDuck
at 3/21/12 8:08:54 AM
never been to DLP only in DP in USA, Japan and Hongkong. I hope before I am old and decrepit that I get to see it... and I think it is sooner than later!!! But for now... thank you for a wonderful TR!