Ultimate Rollercoaster > Discussion Forums > Europe Coasters, Parks & Attractions > New B&M prototype for Gardaland
New B&M prototype for Gardaland
Posted:
7/15/10 at 2:59:14 PM
Views: 18142
Parcplaza.net is apparently showing a concept painting of the new B&M prototype that´going to be built at Gardaland.
On the pic it just looks like an Intamin Wingrider (including the restraints) on B&M track.
What do you think of X-Raptor?
Re: New B&M prototype for Gardaland
by Graeme
at 7/15/10 5:44:30 PM
Could be good!
I do believe Thorpe Parkn are getting one of these in 2012. It's the taller of the two coasters they're planning, and has a lift hill, not a launch.
Re: New B&M prototype for Gardaland
by Corkscrew_Foley
at 7/18/10 1:04:32 AM
This should be quite interesting, that's for sure...
Re: New B&M prototype for Gardaland
by coasterevolution
at 11/6/10 1:02:32 PM
Images of the X-Raptor construction update 30/10/2010 from my site

Re: New B&M prototype for Gardaland
by Graeme
at 2/18/11 4:27:31 PM
Here's a pretty cool video of X-Raptor on YouTube:
Re: New B&M prototype for Gardaland
by Corkscrew_Foley
at 4/1/11 6:12:28 PM
Here's a POV from Parksmania. This is just perfect for Grazza too.
Tim.
Re: New B&M prototype for Gardaland
by Graeme
at 4/1/11 6:37:41 PM
Wow, thanks Tim! Widescreen too. I really felt I was on it!
Re: New B&M prototype for Gardaland
by Corkscrew_Foley
at 4/2/11 2:53:08 AM
I guess the reports coming in have been very very positive. For such a short ride, it's quite intense, something B&M have been lacking.
Re: Raptor Ride Report
by the_winged_beast
at 4/23/11 6:52:56 AM
Raptor is almost the greatest hits of tussauds themeing it's a little Nemesis, a little Oblivion, a smidge of Air and a little of Saw! The bold concrete compound and mesh fencing also echoes a little Jurassic Park. The ride is sat on top of a hill, with the queue line in the centre of the ride area. The queue fences are the same as Thorpe's saw attractions, which are great at making queue jumping impossible, the centre of the queueing are is open to the outside, so guests not queueing can talk to their friends in the queue, working in many theme parks this is actually a great idea, as there are often scenarios where people want to reach their friends who are in the queue or check that their kids are still queueing etc.
Naturally there's some originally composed area music which has Raptor roars and bi-lingual safety announcements over the top.
The loading was very efficient. All the rides at Gardaland (even the carousel) have a turnstile with a digital countdown of how many places are left on the next ride, when the ride is full the turnstile automatically locks. The Raptor queue splits in 2 at the turnstiles, each queue then goes downstairs to the underground station, where at the bottom of the stairs there is a baggage carousel, however it is customary for locals to leave their bags at the entrance to the rides, in huge piles. Seems to be the done thing, I guess there are no problems with theft and Italians are more trusting than we would be here at home!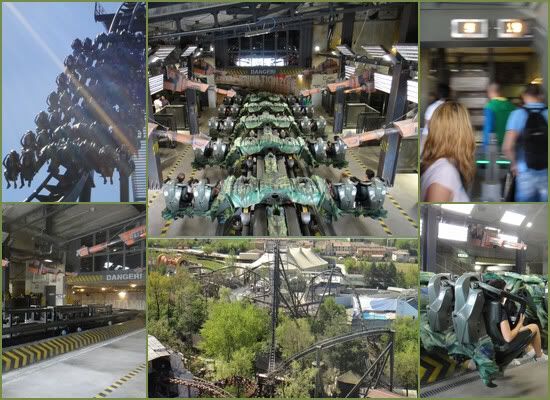 Due to the precise turnstile system, there is no double batching and no front seat queue which makes the station a bit less chaotic and the guests less distracted from loading. So the ride is loaded from either side of the track. When the train comes into the station, the previous guests get off and walk to the front of the station, where they leave via an exit gate. When everybody is out, the air gates are opened and the next riders can board. I'll be interested to see how this system will work at Thorpe Park next year, or if they'll go for something else.
It's a bit surreal having the coaster track on the floor of the station, when usually you'd be above or below the track when boarding, there's a safety guard up against the track to stop people from touching any parts they shouldn't be. The seats are very comfortable, it reminded me slightly of the new gen vekoma restraints, you have an over the shoulder harness, with wider hand grip bars that don't really touch your body, but a safety vest like they used on their flying coasters to keep you safe/ secure. There's a fixed cage leg guard which isn't noticeable and a big improvement on the leg clamps used on the B&M flying coasters.
The coaster departs to a Raptor roar and heads into a concrete tunnel for "decontamination" and ascends the lift. The first drop is straight down and uses the terrain very well plunging down a hillside, its breathtaking in the front row especially the view of the mountains across the lake, in the back it has some serious "pull" and really yanks the last rows of folk over the crest. Next is a narrow stall turn, I really think this coaster type would suit a stretched stall turn, like blue fires, it would create a wonderful swoop effect.
Raptor then heads back up the hillside into an inversion, this reminded me of Hydra, the corkscrewey/barrel roll inversions used in Raptor really suit the wingwalker trains it's very exhilarating to flip over with no coaster track around you dictating the route ahead.
After crashing through a mangled watch tower with lots of protruding metal bodychoppers, next up are some wingdips, the first one for the left side then one for the right side connect by a swoopy turn, each dip has a spraying water effect , which splashes a gentle amount of water up, blocking riders vision for a second, its then a double whammy of disorientation as you soar underneath a bridge which is cascading mist, next up comes a slowly taken inline twist with some body chopper effects through a ride support, a tree (Gardaland like to disguise ride supports as trees, it's done in lots of places in the park) and then a misting ring of enchantment, then it's a turn into to brake run and we're done.
There's quite a large drop from the service brakes at the end of the ride back down to the station which creates a bonus "wheeeeee" moment. It's also worth noting that there's no on-ride photo, that is too old fashioned, instead (all but the front row) have on ride videos (that actually work) which seems to be cut nicely into a themed movie.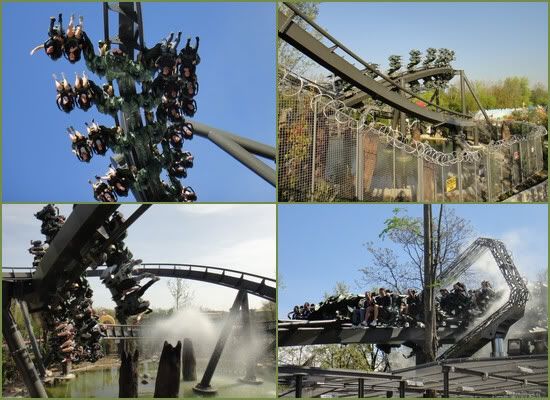 Overall Raptor is an epic coaster, the riding position makes for an exhilarating flight, there's also some force, especially towards the back, which the more contemporary B&Ms are often criticised by the coaster community for lacking.
Gardaland has a great compliment of family rides, so Raptor is great to give them a real thrill ride with a bit of attitude and well suited to the park.
I have to be honest I've been putting this off a little. Our personal experience of Gardaland left a sour taste, without going into detail on the second day of our visit Gardaland decided that I was disabled, which I am most definitely not, and "its not safe for disabled people to ride their thrill rides". I've never felt so unwelcome in a theme park and in short we left, thankfully giving us extra time to explore the beautiful Lake Garda.
I'm just thankful that I am only disabled on Saturdays in Italy and it was ok for me to ride on Friday :-P (tongue firmly in cheek)
Which is a genuine shame as the resort has such a wow factor, the landscaping is beautiful, the themeing is very immersive and the rides are fantastic and take you on some amazing journeys. This with the Italian sunshine and backdrop of Lake Garda and the mountains, it's a really special place

* This Post Has Been Modified *
Re: Raptor Ride Report
by Graeme
at 4/23/11 12:21:31 PM
Thanks for doing that, Winged Beast. The photo montages are absolutely brilliant.
I'm sorry Gardaland decided you were disabled. That's one of the most bizarre things I've ever heard. :(
But the ride sounds promising. To be honest, I suspected you didn't want to review it because it was a bad ride and you were being diplomatic.
When the queue splits in two, can you choose which side you go down?
Also, it sounds interesting that you board on the same level as the track, which makes sense of course, it's just that I hadn't thought of that.
Thanks again for doing the report. I look forward to ours!