Ultimate Rollercoaster > Discussion Forums > Europe Coasters, Parks & Attractions > New Trains for Bakken Rutschebanen
New Trains for Bakken Rutschebanen
Posted:
11/10/09 at 2:34:25 PM
Views: 6573
Rutschebanen scenic railway coaster at Bakken, Denmark, is about to loose its Brakeman
Thanks to three new trains supplied by Kumbak which will have a new magnetic braking system fitted to the trains rather than on the track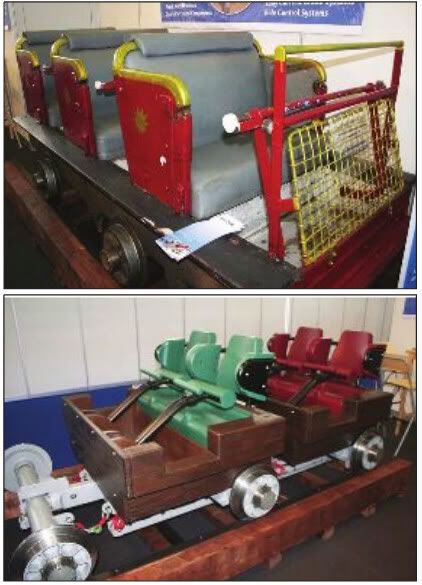 before and after, classic train and the new kumbak design
While the new open design may look impressive, seems a shame to loose the nostalgia of the classic trains and the unique feature of the Brakeman
Kumbak trains have ruined Stampia at PortAventura increasing the vibrations and movement making an extremely uncomfortable ride . . in my opinion i don't think this is a positive move for Bakken

* This Post Has Been Modified *
Re: New Trains for Bakken Rutschebanen
by

LONNOL

at 11/11/09 8:32:03 AM
That is unfortunate. They are known to sell sh*t.
Adam
Re: New Trains for Bakken Rutschebanen
by Graeme
at 11/13/09 11:59:36 AM
I'm a bit out of the loop, but what are the best wooden coaster trains these days that you can actually buy for an "independent" coaster? I know GCI's Gravity Group's Millennium Flyers are highly regarded, but I thought you could only have them on GCI coasters?
Gravity Group's Timberliners look great - I'm not sure if you can buy them for non-CCI/GG coasters or not. One thing I'd really like to know is if PTC are debveloping a new train, a single-row articulated one, for instance?