Ultimate Rollercoaster > Discussion Forums > Europe Coasters, Parks & Attractions > Welsh Wonders
Welsh Wonders
Posted:
11/1/09 at 8:33:16 AM
Views: 7428
Growing up in Stoke on Trent (East Midlands UK) in the 60s and 70s Phil Gould (Editor of OK Magazine) became fascinated by travelling funfairs. At that time the place where he lived was more than well served by showmen with annual visits from Pat Collins, Norman Davies and Camms to name just a few.
But no matter how fantastic these fairgrounds appeared they were always eclipsed in his opinion by the amusement parks in Wales his family visited during his annual holidays.
In an article (Part 1 of 2) written by Phil especially for themagiceye in February 2006 Phil took a trip back in time to recall some of the North Wales seaside funspots synonymous with his childhood that, sadly, today are no more.
below is an image of Rhyl's Ocean Beach (North Wales 1960s)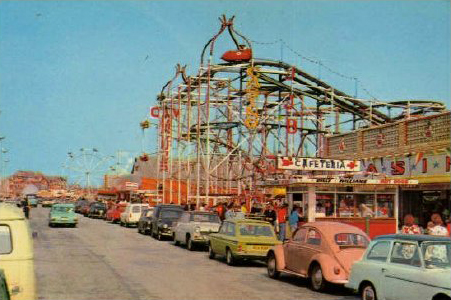 Re: Welsh Wonders
by Graeme
at 11/13/09 12:03:43 PM
Genuinely, that is my favourite Magic Eye feature of all time, because I think the appeal of the amusement scene was always that you could travel round the UK's seasides and find a big "feature" ride at each one. The Welsh mouse, for examplem always reminds me that Felixstowe had a mouse.
Enormous parks like Blackpool Pleasure Beach really were few and far between, and I preferred it when you could find something interesting at all the seasides.
Re: Welsh Wonders
by

d_n_s_u

at 1/4/10 6:28:23 AM
Cheers Graeme.
Reading Phil Gould's Welsh Wonders article and his More Welsh Wonders (Up this month) fills me with an air of sadness about the state of the industry and the lost treasures that I just took for granted as a child..
I've been thinking on your Design / decade post and have yet to reply but will do.
In the meantime an image from a golden period of UK Parks
The Helter Skelter and Big Dipper at Porthcawl, South Wales early 80s courtesy of Phil Gould (Editor of OK Magazine who kindly wrote the two articles for themagiceye a few years back)
http://www.joylandbooks.com/themagiceye/articles/morewelshwonders.htm