Ultimate Rollercoaster > Discussion Forums > Europe Coasters, Parks & Attractions > The day I first rode Stampida
The day I first rode Stampida
Posted:
6/9/09 at 12:57:56 PM
Views: 7498
October 2004..I've not ridden it since but look forward to going out and back to Port Aventura some time. (Great Park!! Great memories)
We entered the Fast Pass lane and found ourselves in a rather dark area under the structure of the ride having to decide whether to go straight ahead for the Blue Train or take a right up some stairs for the Red Train. We chose Blue and found out later that this was the faster of the two trains.
Within five minutes we had been loaded onto the ride.
One thing I didn't like the look of was all the marker pen graffiti on the seats of the train. It wasn't pleasing on the eye and for a park like this disappointing in my opinion. My wife, however, thought it gave an edge to the ride (there's that word again).
Right. No messing around with this ride. The trains leave the station and straightaway (and very quickly) climb over 80 feet. They then take a right turn and, no matter which train you are in, give you just a few seconds to take in CCI Inc's wonderful twisting, turning 3000plus feet of track.
Then...WOW!...It's 'head chopper' time. Then not in any particular order. It turns to the right, the left, through a tunnel on a turn then drops...I felt it delivered an extremely rough ride with a fair share of air time. it rattled left and right. My back ached, the sky shook, the track rattled, the lapbar was gripped tighter...
If there was one problem I had with it though it was that I never felt I was in a race with the other train, unlike the Grand National at Blackpool. In fact it was only when the Red train came hurtling very closely past us in the opposite direction that I remembered that there was another train running. The 'Fly By' was a great touch though. Oh and somewhere along the track I noted Tomahawk swooping below us. Three trains running in the same enclosed space!
Overall impressions. Certainly not disappointed. Great ride (tried Red train after but preferred the Blue. Not too much difference in the overall ride). It was a very rough ride though (perhaps rougher than I had hoped) and like its little brother Tomahawk there was some very sudden braking at the end which jolted my body a little too much for my liking. But hey, who's complaining?
I skipped the on ride photo of myself which showed the full effect of the G Forces on my face. It looked like I should be plying my trade somewhere within the depths of Psycho Circus!
...My wife and daughter didn't think I looked any different!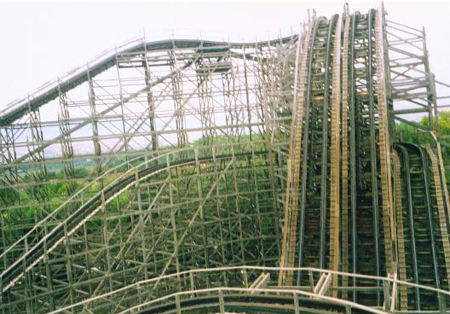 Re: The day I first rode Stampida
by LoneStar
at 6/9/09 7:47:38 PM
I had the exact same impression of Stampida when I rode it back in 2005. I was thrilled with the ride, and like you, I can't give you an exact playback of wht the track acutally does. I just remember whizzing through the structure, head chopper galore, getting my brains scrambled, and somewhere in there seeing that red train fly by.
My complaints are similar to yours, but I do prefer rough wood. Glad you enjoyed Stampida.
- Pat-O
Re: The day I first rode Stampida
by TrickTrack
at 6/10/09 1:28:14 AM
I rode it for the first time in 98 and it was enjoyable and not very rough back then.
I also had no idea where the ride was going as you are constantly surrounded by wood and track.
The "fly by" was indeed a great and surprising "wow"-effect.
I haven´t ridden it since Kumbak got their incompetent hands on it, but I heard that the trains are horrible (no surprise!)