Ultimate Rollercoaster > Discussion Forums > Europe Coasters, Parks & Attractions > Reel
Reel
Posted:
5/4/09 at 5:28:40 AM
Views: 5629
I've posted this before on here but for those of you who are yet to see it, click the link for The Blackpool Reel in full flow. (30 secs in)
Block brakes? What are they? :-)
Hold on now.
Gary
Re: Reel
by the_winged_beast
at 5/4/09 7:48:07 AM
WOW! I love the romantic/classical architecture of the park
Its funny, i know exactly where the opening shot of the park is and how much its changed through the years but the Ark/Flying Machine have remained firmly anchored in position
The film kind of rings home how sad it is that nobody will step aboard the ark again, i'm sure we could enjoy our historic attractions more as their original purpose indented rather than use them as ornaments
Incredible footage thanks for sharing Gary

Re: Reel
by TrickTrack
at 5/4/09 9:43:39 AM
Very nice footage! I am still wondering about the Reel: I thought it would spin at least at some places, but the cars look rigid in the video. Anyone know more?
Re: Reel
by

d_n_s_u

at 5/4/09 12:10:54 PM
I was lucky enough to ride The Reel several times and can honestly say that the ride hardly spun at all.
Believe me - I wouldn't have ridden it if it did - I hate rides that spin! :-)
It spun a little as it took the corners but the biggest surprise was to be had at the bottom just before the tunnel.
You got air time UK seventies style courtesy of what appeared to be ratchets in the track that made everyone riding leave their seats and lift them a few inches off the ground.
Not sure if that was meant to happen but it did. :-)
Re the photo below:
Luna Virginia Riehl whom the ride was named after (2nd from right) suffered from heart problems most of her life and died on 15th January 1964.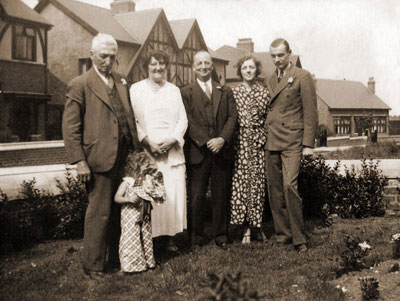 Re: Reel
by Graeme
at 5/4/09 12:17:05 PM
Amazing! Truly amazing!
I can't believe film of this quality exists from 1926! It feels like the present day! It's so smooth and clear.
As well as the Reel, I was thrilled to see the Scenic Railway. I mean, the Grand National's old enough and that's not even there!
Re: Reel
by Corkscrew_Foley
at 5/5/09 11:01:39 AM
Wow, what footage! I think I'd be bricking it though when there's that much traffic and no block brakes. lol I do want to say how beautiful the PB looked then, it really is a shame to see it fall apart like that.