Ultimate Rollercoaster > Discussion Forums > Europe Coasters, Parks & Attractions > Cranger Kirmes 2008
Cranger Kirmes 2008
Posted:
8/19/08 at 10:12:36 AM
Views: 5916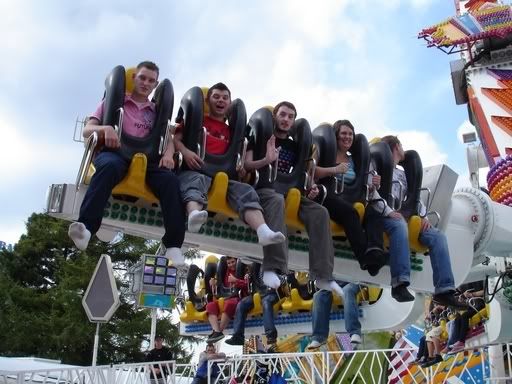 My other half has a worrying fetish for top scans, so he was very excited to be joining Jai and myself on our annual summer Belgium jaunt to Foire Du Midi, however as it turns out the top scan wouldn't be at this years fair, so to avoid disappointment the logical thing to do (of course) was to rent a car and drive from Brussels to Cranger Kirmes in Germany via Toverland in Holland . . .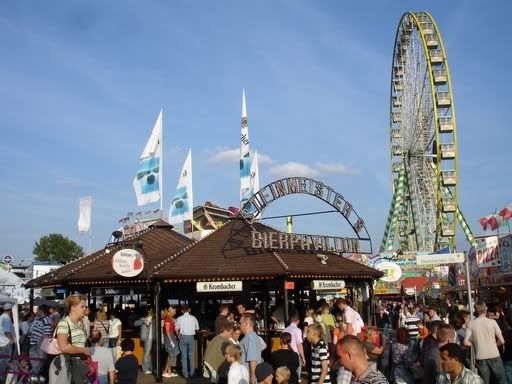 After a delightful morning at Toverland, a place/concept I've fallen in love with, we arrived in the traffic jammed streets of Herne around 3pm, cars were abandoned all over the place, even parked up on the sides of the dual carriage way, we followed the line of traffic into the usual staff car park of a factory
The parking was secure and close to the wilde maus, ideal really, first stop was the toilets! The fair was full of these, a very clean and well looked after place to spend €0.50!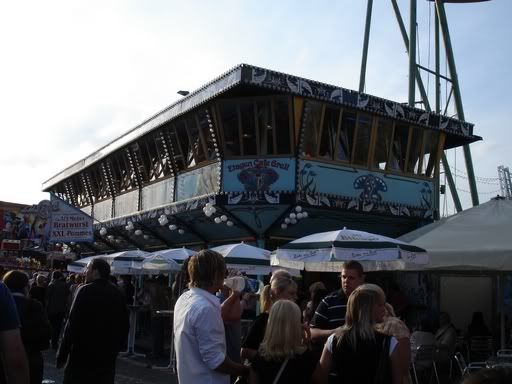 There were lots of elaborate bars and restaurants, even a cluster of different outlets themed to the streets of Paris complete with the Eiffel Tower
Drinks were more expensive than the rides especially in the sitdown outlets, we found it hard to get soft drinks, most places had sold out, so we had to resort to brain freeze slushies, no gummy bear schnapps for me I'm driving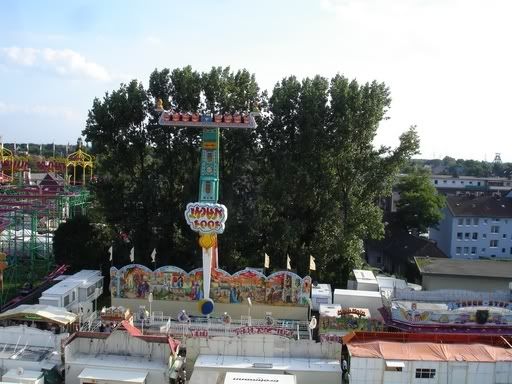 1001 Nacht was up first, there were some mischievous water jets hidden in the platform that soaked the unsuspecting, it was nice to get a ride on one of these beauts again, although a woman facing us looked like she was about to hurl chunks at any minute!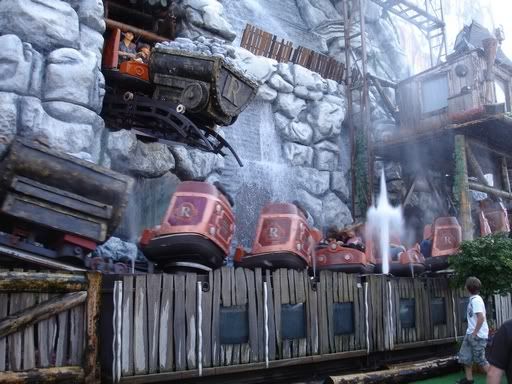 Höllenblitz was the surprise highlight of the trip this spinning dark coaster was just astounding in every way, the dispatches were so efficient and the elaborate mine themed façade with giant waterfall which conceals the inner lazer show and lengthy speedy track surprises made for a truly show stopping extravaganza, I really can't believe it travels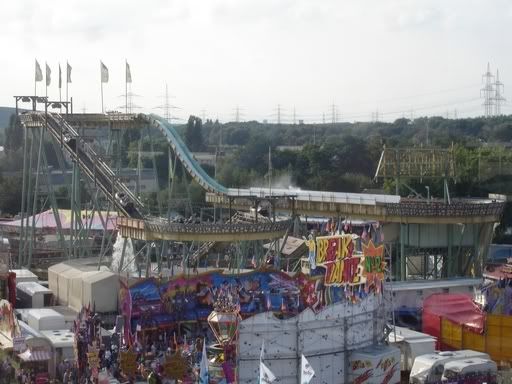 Staying on the theme of "I really can't believe this travels" Wildwasser 3 is gigantic, with 3 drops a reverse section and almost dark ride section, the height of the thing is a wonder, this is bigger and more elaborate than most park flumes yet the whole thing moves from fair to fair
Alpina Bahn is very impressive the fast tight turns and banked coils that you'd expect from a Schwarzkopf are all here, a very intense, thrilling coaster they certainly don't make them like this any more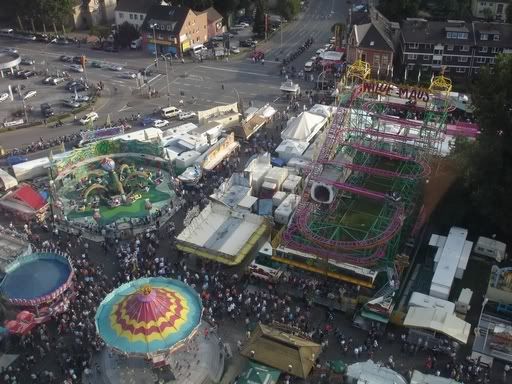 We managed to pursuade Adz (ferris wheel phobia) and Dave (phobia of water, spinning, and heights . . yes he had a *great* time at Cranger Kirmes!) onto the 56m giant wheel, there were some fantastic views you could truly appreciate the sheer scale of the fair from up here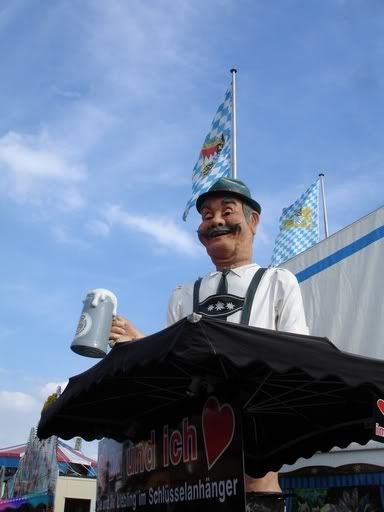 We managed to ride
1001 Nacht
Alpina Bahn
Bellevue (56m Giant Wheel)
Circus Circus (Huss Magic)
Devil Rock (Huss Flic Flac)
Höllenblitz (Indoor Coaster)
Phoenix (Mondial Heartbreaker)
Revolution (Top Spin)
Skater (Top Scan)
Wildwasser 3
Adz & Jai also rode:
Break Dance #2
Looping the Loop (Hamster Cages/Salt & Pepper Shakers)
Star Gate (Top Star Tour)
There was also, Star Flyer, After Burner, Pirate Ship, Sea Storm, Shake/Roll Over, Booster, Flipper, Ghost Train, Polyp, Wave Swinger, Wild Mouse, Bayvern Curve and more, I only wish we had the time and money to do everything, particularly see what was inside the jurrasic park gate themed thing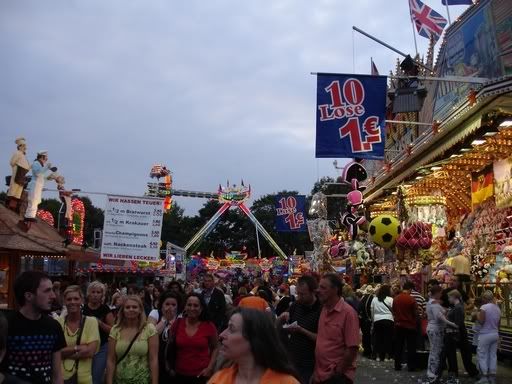 After 6 hours our pockets were a lot emptier and the sky was getting darker, we decided to take the almost 3hour drive back to Brussels, it was slightly disappointingly to not be able to stay later to truly appreciate the night time atmosphere of the fair, but it was a very long drive home, also it started to get very busy, you could hardly walk between the rides it was so full of people
Cranger was a big way pop our German fair cherries, it's a real monster of a fair, the OTT scale and atmosphere to it was just immense, what a kick ass kirmes
Re: Cranger Kirmes 2008
by Graeme
at 8/19/08 11:31:50 AM
Great TR and photos. The whole thing reminds me very much of Funderworld. ;) I love all the trees!
What was the Heartbreaker like? That Sigourney Weaver film? ;)
At Toverland, did you ride Troy and Booster Bike?
Re: Cranger Kirmes 2008
by TrickTrack
at 8/20/08 2:04:28 PM
Cranger Kirmes is really good! It is a bit chavvy, but that comes with the terrain. The area is really struggeling with unemployment for a long time. The good thing about this is that the rides are actually a bit cheaper than in Düsseldorf.
You should have done the Polyp/Monster (its a Schwarzkopf) they give incredible rides which at times are even wilder than a Breakdance.