Ultimate Rollercoaster > Discussion Forums > Europe Coasters, Parks & Attractions > London Dungeons TR [*Contains Spoilers]
London Dungeons TR [*Contains Spoilers]
Posted:
6/14/08 at 2:53:22 PM
Views: 3055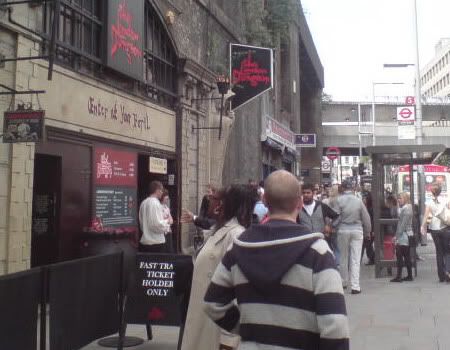 I found myself unwillingly submerging into the dark underlayers of the London Dungeons, a complete contrast to the outer bright June sunshine, unwillingly as I'm a grade-A wuss when it comes to horror and totally squeamish when it comes to bodies and inside parts!
The sets and props aren't of any outstanding quality, but the dim lighting makes them appear more immersive and effective, the staff act well in character and help to bring the tales alive, I'd expected there to be more jumping out to scare guests, but thankfully the Dungeons hasn't been Tussaudsised yet!
What impressed me the most, was the crowd control, the scenes/exhibits/stories/rides are very carefully blocked, we only once ran into another group, there are a few rides/attractions in the mix
Labyrinth of the Lost
Mirror maze with a deliberately short route and a couple of recognisable animatronic figures ensure you feel as though you're entrapped with no way out!
Boat Ride to Hell
After been trialed for "unnatural acts with a horse" we were sentenced to take a boat ride to traitors gate, a fantastic water ride with a couple of reversing turntables and a small but effective backwards drop thrown in for good measure, its really impressive considering the very small footprint its squeezed into
Sweeney Todd
Seats with speakers in the back make you feel a close shave with the legendary Barber
Extremis: Drop Ride to Doom
No bigger than a frog hopper, but the story/theme and huge airtime from the single drop make for a great ride
Overall a fantastic midway attraction, while it did feel a bit overwhelming for me at times, I was continuously impressed by how they'd used different ways of bringing some frankly gruesome historic tales to life

Re: London Dungeons TR [*Contains Spoilers]
by

d_n_s_u

at 6/16/08 2:02:49 PM
Heh Heh!..Got to love the sound of that "Boat Ride to Hell"
It sort of tells you what you need to know really. :-)
We often pass the LDs when we visit London each year but to date we have never ventured in..We may just do so this year..
Cheers