Ultimate Rollercoaster > Discussion Forums > Europe Coasters, Parks & Attractions > Lightwater Valley TR 19-APR-08
Lightwater Valley TR 19-APR-08
Posted:
4/24/08 at 11:02:24 PM
Views: 4327
So I made my long overdue visit to Lightwater Valley, for the first time in three years, I'm still yet to visit the park on a day which is not overcast as I have no digital photos of the park in the sunshine, only grey overcast misery which really does the park no justice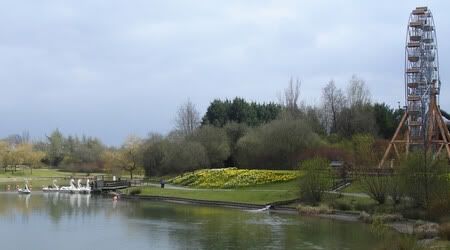 Upon arriving at the park the first thing you see is this rather untasteful burger van, with an even more untasteful name "snack in the mouth" which along with the 1980s seaside style crazy golf and pay extra trampolines, and a green pond which hasn't been cleaned since the 1980s detracts from what could be a really nice entrance plaza
We booked tickets on lastminute.com for £11.95 the gate price is too high in my opinion at £16.95 considering the park is only open from 10:30-4:30 on normal days but they push the boat out and extend the close to 5pm on a Saturday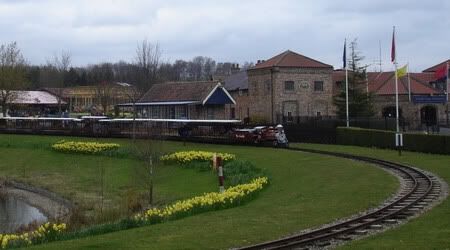 Lightwater is a struggle between very green open countryside scenery and the harsh grey concrete on which the crude travelling rides sit with no grace or style, while the ride collection is ok, there's no real strong stand-out attractions apart from the Ultimate
We were in hysterics this coaster is just so wrong, it made us laugh from start to finish, even the long straight sections of track are now rough, never mind that fiendish forest meander second half
The old chap that was operating the ride was playing his "The Greatest Obscure Hits of Status Quo" CD all day apart from when he was on his break when it switched to REM in between a pre-recorded ride announcement to great musical fanfare
I've always thought of the LWV staff as exceptionally friendly and people who took great pride in the park, sadly it didn't seem to be the case on my visit, the staff were unprofessional, the park doesn't seem to have a consistent uniform all were wearing a multitude of different colour and style shirts and jackets, it seemed the staff were either scruffy young children fresh from school or scruffy old perverts fresh from the sex offenders register
There was zero interaction with guests, the only time we were spoken to by the ride staff is when they recited their robotic safety instructions "prepare for a sudden stop at the end of the ride" even when the Twister broke down while we were waiting the ride ops talked to each other at the control panel, away from the guests who were stuck at the front of the ride station, at no point was it explained to them or the people waiting what was happening
Hornet's Nest wasn't working on our visit
Rat Ride (Schwarzkopf wildcat) is probably the best example of a zyklon style coaster, it's a great ride still, the realist approach to the themeing has always worked well, however they won't upgrade the safety system so they can only have one car on the track at a time . . . . . hence the capacity is shot and to make it even more painful they were only loading the front seats of the cars, the back were filled with our old friends the water bottles, dispatching a car every 2 minutes, that's an average of 30 cars an hour, so a grand throughput of 60 people an hour . . they may as well have kept the bleeding batflyer at this rate!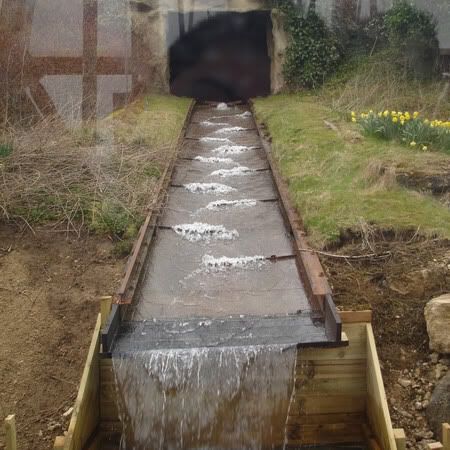 The more quirky rides like Ultimate, Rat, Wave and Toad Hole really made Lightwater valley so charming, The Toad Hole has sadly been removed, well the end of the track has been cut off and turned into a water feature, the old splash pool concreted over and a brazen themed ferris wheel plonked ontop, the cars have plastic windows which obstructs what could be some nice views, while the wheel is themed as a ship, the toad hole has been themed as a mine, interesting contrast!
When queuing for the Grizzly Bear, we reached the front of the queue, now in a normal queue this would mean it should be our turn next right? Not at Lightwater Valley, because we were a group of 2 we couldn't get on the next car in the station, because that was a car for 4 people, we'd have to wait for the car that was for 2 people, with the back seats filled with water bottles (just like the rat ride) luckily there was another group of 2 in the line a few groups behind us who volunteered to make up a 4 with us
Food in the park is shocking, so we decided to get a pass out and visited the nice restaurant in the adjoining shopping village, which looks great in its oldey-worldy themed style, if only the theme park could be styled in the same way, it would improve the park threefold
Lightwater Valley was my local park as a child, I've got great sentimental feelings towards the place, which perhaps in the past have always lead me to defend it, but it really has lost its shine, I can sum up the park in one word - unprofessional
They need to take a long hard look, at how they operate the business, why they should run the rides at their full capacity, the quality and choice of catering outlets inside the park, why they feel the need to have burger vans parked up in the park entrance plaza and how the staff are dressed, trained and approach their work, especially in interacting with guests
* This Post Has Been Modified *
Re: Lightwater Valley TR 19-APR-08
by JaiB
at 4/25/08 8:50:09 AM
Sounds like you had a bit of a lack-lusted day at the Valley, shame really as you have always painted a nice picture of this park in the past and it was somewhere I would of considered for a jaunt, but going off this TR I think I'll wait till the sparks back...
JaiB!
Re: Lightwater Valley TR 19-APR-08
by

d_n_s_u

at 4/25/08 5:14:21 PM
Of all the Brit Parks I have visited The Valley is very much bottom of the pile in terms of enjoyable / value for money day out.
This family went 2 years back and were apalled at the levels of hygiene on show from the food stalls. (Young lad sneezing and wiping his nose on sleeve and then serving Hot Dog to woman in front of us)..We walked..No, scrap that..we RAN!!
I have only ever been angry and disgusted with two ride ops in my life. One was on Space Invader at BPB about 3 years back when some guy with no social skills at all screamed at me for taking a photo of the cars inside the building as we were standing ready to be shown to our car.
I honestly believe(d) that he should have been sacked on the spot. That day he let himself and all the very good BPB ops down very badly.
The other Ride Op was at LV - Some young kid shouting at me for wearing glasses and not taking them off before The Ultimate left the station. I don't remember anyone telling me I had to take them off in the first place.
I was angry and embarrassed. So were all the other riders it appeared. The kid was a moron bereft of any social skills..Pathetic. He symbolised the park for me.
God help tourists.
I don't think I have ever been so down about a park before and it wasn't helped by the swarms of bees either.
Although if they had any sense they'd get the hell out too!
Oh, and I hated The Ultimate. Shame really because ever since I saw it on the RCCGB's White Knuckle Video I always wanted to go there.
My personal opinion of course and wherever possible I am 1000% behind all parks but the very well written TR above brought back memories that still make my blood boil today.
Re: Lightwater Valley TR 19-APR-08
by Graeme
at 4/26/08 11:48:54 AM
A thought-provoking TR. Nice to see you're unbiased (as always) despite your links to the park.
I must say, I think small (in terms of status), inland theme parks are in real trouble, much more so than other UK parks, as people need a really good reason to pay circa £15 to visit an isolated location.
People have no problem paying £30 for something "fashionable" (like Alton or Thorpe - and to be fair, they do add new attractions), plus people do still go to the good seasides.
> Upon arriving at the park the first thing you see is this
> rather untasteful burger van, with an even more untasteful
> name "snack in the mouth"
I have to admire their sense of irony, painting (realistic, it must be said) pictures of Jamie Oliver and Ainsley Harriott on it!
> Hornet's Nest wasn't working on our visit
To be honest, when I rode it at Southport, I thought it was the most boring thing I'd ever been on (still is!)
The operations make it seem as if they're penniless. I mean, 2 riders per circuit on the Rat! Different capacity cars on Grizzly.
To be honest, d_n_s_u's TR always stuck in my mind, and I was sorry he had such a bad day there.
I've only been the once, in 1996, and although it was much better than it sounds now, it was a disappointing day, as I was really looking forward to Batflyer yet it seemed not to have opened that year. Plus, the City Jet broke down and I didn't get to ride it (still not been on one).
I did enjoy the Ultimate, but thought it was a great idea done quite poorly (loved the two big drops though).
Lovely big park, lovely scenery, but they do seem stuck in a rut.
d_n_s_u:
> I don't think I have ever been so down about a park before
> and it wasn't helped by the swarms of bees either.
> Although if they had any sense they'd get the hell out too!
According to Doctor Who, the bees ARE disappearing! ;)