Ultimate Rollercoaster > Discussion Forums > Europe Coasters, Parks & Attractions > TR - Road to Troy: Part 1 Efteling
TR - Road to Troy: Part 1 Efteling
Posted:
1/11/08 at 6:46:06 PM
Views: 2227
Finding a theme park not too far away in Europe that will be open at this time of year to celebrate Jai's birthday is an interesting challenge. The European parks are starting to pick up on the latest trend of opening for special events outside of the traditional season, so lots have some kind of winter event but that doesn't always mean the whole line up of rides will be available.
There is one exception Toverland which is not your traditional amusement park but nonetheless has some attractive rides and is open every day of the year, so The Netherlands was to be our destination, and as it was kind of en-route from Amsterdam, Efteling's winter event seemed a nice distraction.

Perhaps the most nerve wracking ride for myself was the drive from the airport to the park, having only passed my driving test a year ago, this was the first time I'd driven abroad, thankfully it wasn't as bad as I'd feared and the sat nav kept us on the right track, how did we live without it?
Arriving at Efteling you're greeted by thatched horns of perhaps the most elaborate turnstile area ever, it sets the scene, this is a very different park, one which is going to take you to some very magical, special places, venturing into the park we had no map or no idea of the layout, we were enchanted by the style of the park, very rich themed buildings which are complete fantasy all rooted into some spectacular almost grand landscaping
Our first adventure lead us deep into a spooky castle, we didn't quite know what to expect, however the dramatic animatronic show which unfolded wasn't the ghost train ride we expected. Efteling's attractions are about telling stories, even if you know what type of ride is coming there's always a twist which is unexpected, that adds a delightful surprise to the adventure
Another tale of the unexpected came from a surprise ride been available, we knew that the roller coasters wouldn't be open for the winter event, with the exception of the enclosed Vogel Rok. However it was a nice surprise to hear the chunky Bob sleds thundering down the oversized green tube snaking its way through the trees, the ride itself is a riot and as with all the rides at this park had efficient dispatches, but none-the-less a lengthy queue that continuously shuffled forwards, the longest queue of the day was for Dreamflight it was advertised as a 50min wait but it took perhaps 40-45mins
It was worth the wait too, what a ride a literal flight to pure escapism and fantasy, certainly the highlight of the park for me, the other stand out attractions were Vogel Rock a zippy dark coaster and the flying pagoda offering a birdseye appreciation of the beautiful setting for this fairytale

The park was open until 8pm however we left slightly earlier, the lengthy queues were taking their toll, and the cold weather conditions were starting freeze our energy slightly. One sure way of warming yourself at Efteling though are with the delicious fries, they were extremely tasty and the portions huge, though it was kind of like chip jenga, trying to dislodge a single chip form the mighty stack without sending the whole thing tumbling to the ground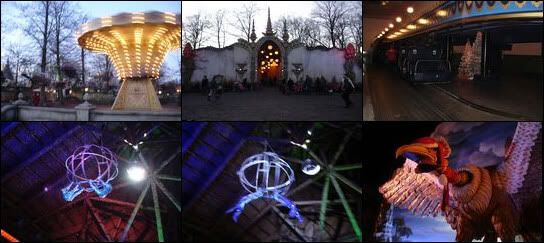 Efteling is a very inspiring place, I would like to visit in the summer season, so I could try Python, Pegas and the looming Flying Dutchman, the only slight off-putting factor for me personally is the queues. Efteling is a busy park, and to be fair it has been set up well to cope with crowds, everything is great capacity, efficient dispatches and the queue lines do frequently edges forward when you're waiting in them, although as an enthusiast I've grown inpatient, I'm tired of queuing and don't really enjoy waiting or want to wait anymore, perhaps I should learn by the example of the very patient locals, who had a very disciplined approach to queuing, no one was really eating, smoking or attempting to line jump, everyone behaved and patiently waited their turn, perhaps though this is the family audience the park attracts
Re: TR - Road to Troy: Part 1 Efteling
by Graeme
at 1/12/08 5:30:00 PM
What a great Saturday I'm having - day off work, Harry Hill, Primeval and two new TRs from you!
> It was worth the wait too, what a ride a literal flight to
> pure escapism and fantasy, certainly the highlight of the
> park for me,
How I'd like a ride like Dream Flight. I know a bit about the Efteling ride, but does Peter Pan's Flight at the Disney parks use the same sort of technology?
> although as an enthusiast I've grown inpatient,
> I'm tired of queuing and don't really enjoy waiting or want
> to wait anymore,
I consider myself a patient person, however, I don't like queues at theme parks and I'll never agree with "the queue is part of the ride" ethos. To me, two or three high capacity trains should be the order of the day. If I feel a park has done its best by actually buying the right ride, I don't let it bother me at all, such as Nemesis, Air etc. Mice-type rides at Tussauds parks do bother me though, I must be honest.