Ultimate Rollercoaster > Discussion Forums > Europe Coasters, Parks & Attractions > Tivoli Christmas
Tivoli Christmas
Posted:
12/8/07 at 4:45:13 PM
Views: 1806
Breaking annual traditions of visiting PortAventura at this time of year, Jai & myself, this time joined by Adz and Martin, visited Tivoli Gardens for our December (off season) coaster fix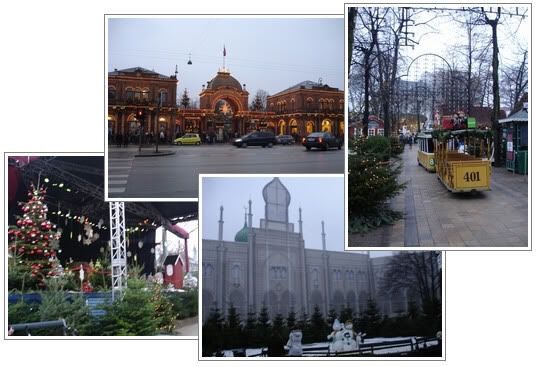 The park is more than fully open except for the vekoma mad house (which after 2 visits we still can't find the entrance for!) a zierer wave swinger with an entire inner row of double seats nicely covers one of the drained fountains, a double deck carousel and childrens train ride through winter scenes, a meet Santa photo opportunity and an extensive Christmas market add to the usual line up of attractions on offer at this urban oasis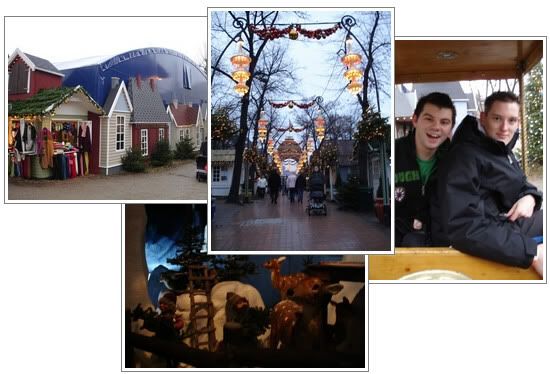 There were lots of open coal fires to warm your hands around dotted through the park, this was especially welcome, we thought the compensation culture would never allow anything like this at home
Inside the large blue marquee, cleverly hidden behind the facade of house fronts is a series of animatronics winter scenes, tunnels for children to crawl through and a cafe serving welcoming warm festive drinks
The previously mentioned pixie train, starts outside this structure, however enters/exits through a set of crash doors taking a little tour through one of the snow scenes
It just goes to show even with its temporary seasonal attractions, Tivoli always pulls out all the stops to create a rich experience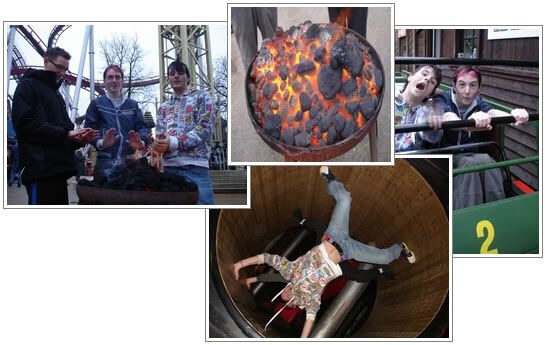 We visited on a weekday, the park was open 11am until 10pm, with the attractions opening at staggered times, thanks to the very informative park website we could plan ahead to anticipate this
We had an absolute ball, Tivoli Gardens has a very fine selection of rides, the scenic oozes charm, the fun house is delightful, the flic flac is pure sadism, demon is awesome as ever and it was especially freezing on the star flyer at this time of year
The little spinning tower ride was a big surprise we actually had more fun on that than the S&S tower!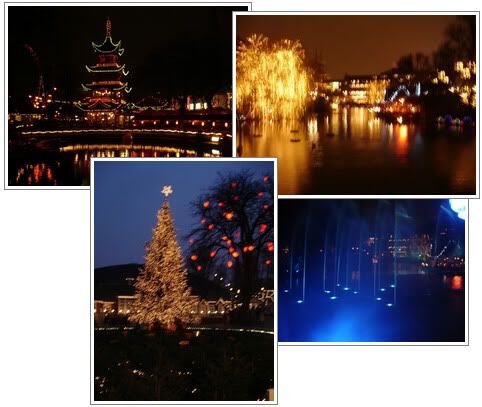 The park is even more magical at night when all the lights come on, there's also a lazer light show on the lake
The unique fusion of nostalgic charm, beautiful landscaping and amusement make Tivoli Gardens enchanting at any time of year, but there's definitely something extra special about Tivoli in the Christmas season
Re: Tivoli Christmas
by Fraser
at 12/8/07 7:49:03 PM
Ja, Tivoli er meget hyggelig.
Jeg vil gerne gaar igen.
Re: Tivoli Christmas
by Graeme
at 12/10/07 11:27:45 AM
Charming! I really must go.
Still, at least we have retail parks over here... ;)
Re: Tivoli Christmas
by Fraser
at 12/10/07 1:28:36 PM
It transcends Charming, Graeme-it really does. If there is one park in the world designed with you in mind, it's Tivoli.
GO!
Re: Tivoli Christmas
by

Cal

at 12/11/07 11:45:26 AM
Oh that little spinning tower is at Farup Sommerland during the summer - we rode it there and found it absolutely hysterical. It's such a great ride.
And I'd love to do a Christmas at Tivoli - it's such a magical park. I really enjoyed it in July.
Re: Tivoli Christmas
by Corkscrew_Foley
at 12/17/07 2:32:53 AM
Fraser's right, Grazza, go to Tivoli, I would in the drop of a hat... oh, and they have a floorless too. ;)